Not alot of dramatic things happened in Harvard when I was growing up. It was a small town so we got used to small things having relatively big importance. So when they decided to raze the grade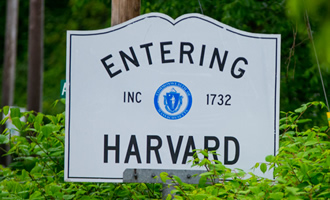 school I attended for three years, I got out my camera and shot an *entire roll* (12 exposures) of film. That was a big expense for me, but seeing a building taken apart which had sheltered you for a majority of your daylight hours is new and unsettling imagery for a youngster to digest. I recently ran across the shots I took and wanted to post them for posterity. Those of you who were with me at the brown school will fondly remember the low ceilinged cafeteria downstairs, the huge gymnasium with the crank down basketball hoops, and the creaky wooden bannister staircases holding a thousand stories.
According to an article in the Nashoba Valley Voice: "By 1900, the Center School [also referred to as the "Bromfield Building" and the "Brick Building"; today it serves as the HPL] was
outdated. The State Board of Education was pressuring the town to build a new school. "The school was just not up to par," said [Harvard School Committee member Piali] De. The town cited a lack of land and money. Enter the Hildreth Family. "The Hildreths bought that piece of land and gave enough money to pay for half of the cost to build the 'Brown School,'" said De. Six acres across Massachusetts Avenue from the original Bromfield School was gifted in 1904 by Harvard brothers Edwin A., Stanley B., and sister Emily E. Hildreth. It is where the Brown Building was built, named, simply enough, for its brown color. In 1984, studies revealed a need for possible school additions. The resulting recommendation was to build a new elementary school, which was completed, alongside a massive Bromfield addition project, in 1990. To make way for the elementary school structure, the Brown Building was demolished."
So with the history out of the way, here are my shots of the demolition. All that remains standing by is the chimney and one corner of the Gym.  If you have some of your own to share, or even stories of your own feel free to post them in the comments section below. Thanks!
Comments & Responses