Back in the 90s when I first got my ham radio license, I joined the local traffic net  out of Waltham Massachusetts. This net would meet every night at the same time and served as the "last mile" delivery link for messages sent via ham radio. It was the beginning of the internet, so its likely these were the last years of the net.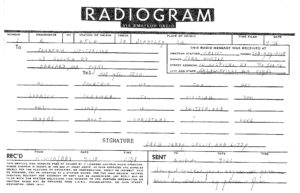 Its likely that my uncle turned me onto these nets by sending me a 25 word "radiogram" when I was young. Here's a photo of the radiogram. Normally a local ham radio operator would make a free local call with the message, but in my case it was sent by mail. This is nice actually since it means that I have a record of the occasion. I'm happy to report that Jean KA1IFC is still a licensed ham 35 years later.
Anyway, going through my files, I found a typewritten copy of some limericks one of the members of the traffic net had written about the other traffic handlers. I'm sorry that I don't know the author, but if you have any information about this please jog my memory using the comment form below. Please enjoy this curious artifact from ham radio past:
"LIMERICKS 90"
In Waltham there is a repeater,
that works quite well as a heater.
It has nets at night that are plain outta sight,
so our traffic just cooks on it's feeder.
(Jim WA1TBY)
There was a young fellow from Brighton,
whose code was really exciting.
Oh he sent QSLs when the copy went well,
but when not, got fills like greased lightning.
(Marcia KW1U)
There was a Young Lady named Marcia,
who had a great deal of inertia.
For traffic to where, she developed a flair,
and now is a traffic top-notcher.
(Jim KA1KML)
Missed delivery to Jim by a day.
Addressee had just passed away.
Routed the message to Heaven, got back ARL sixty seven:
"We're sorry, but he couldn't stay."
(Bill AI6E)
There was once a ham named Bill,
who copied traffic down on a mill.
Til one day he cracked, and all he could tap was,
"slow down, I need a good many fills."
(Dave KA1CEY)
And what of the gentle ham Dave,
who operated out of a cave?
One day in his grotto his rig went up blotto.
Oh my, how he did cuss and rave.
(Jack W1EOF)
There was an old vet named Jack,
who took traffic in by the stack,
By working like hell, he soon earned BPL,
and now posts them around in his shack.
(Mark KA1GEP)
There once was a ham named Mark,
who ran his rig in the dark.
The night turned aglow from a lightning blow;
he now lights up his shack with a halo.
(Dan W1PEX)
In New Hampshire there was a guy named Dan,
For a mike he used an old tin can.
With a rip and a roar, he passed traffic galore,
from Section to Region to PAN.
(Lew W1CE)
And what of the ham named Lew,
who had a great passion for stew?
When one day he found, it was good for a ground,
oh my how his signal strength grew.
(Bill N1AJJ)
There was a ham from Methuen,
who kept his rig hot a-brewin'.
One day as he strove, to make it a stove,
was voted for chef in a shoo-in.
(Bob KA1BBU)
There was a time when Bob Egles
ran a longwire to the foot of a seagull.
One day from on high, he got hit in the eye,
and Bob shouted, "Hey, that isn't legal!"
(Fred NG1A)
There was a ham named Fred,
who kept forgetting his sked.
To help fix this woe, put a string on his toe,
now he's up and a'rarin' to go.
(Wendy KB1AF)
And what of the girl called Wendy,
whose talents you couldn't call trendy?
From P-town she'd call, with a signal so tall,
that you knew she was having a ball.
(Clyde N1BHH)
In Rockland there lived a big dude,
who liked hamming around in the nude.
One day on the sly, a gal came inside,
and poor Clyde had no place to hide.
(Rusty K1GGS)
From Belmont came a guy Rusty,
who's thirst for hamming was lusty.
When a bolt from the sky, left his beer mug dry,
all of his gear got quite dusty.
(Bruce N1CVE)
Then there was that guy named Bruce,
whose antenna went to a blue Spruce
.
Using a KW as a joke, his rig went up in smoke,
and that spruce tree is now cherry red.
(Bill KA1NOI)
And what about young Bill Ledder,
who tried to make code sound better?
With a clink and a clang, and a helluva bang,
"I'll stay on the phone, thanks gang".
(Barry KB1PA)
We have an SM named Porter,
whose talents drift off a bit, sorta.
He never does tarry, with the load he must carry,
and we're all right there with you, dear Barry.
(Rich K1CE)
There was a ham named Rich Palm,
Who thought he could do no harm.
By twisting two wires, and lighted a fire,
As his rig went up with a thwack.
(Nick K1UXB)
In Medford there was a ham named Nick,
whose code speed was not quite so slick.
While drinking a beer, he bought a new keyer,
And now he's an expert this year.
(Paul K1SEC)
And what about Paul from Norwood,
who operated from under his car hood?
By designing a mod that created a spark,
It give him a light in the dark.
(Eliot W1MJ)
And praise to Eliot, all Hail!
Who got himself thrown into jail.
He rattled the bars with loud dits and dahs,
"Will someone come up with my bail?"
(Don KF7R)
From Fort Devens we have a guy named Don,
Who operated out of his john.
One day when he flushed, his rig seemed to blush,
But out came CW sigs with a rush.
Comments & Responses