I have been on the lookout for a Model IV "plastic" bassoon for over 10 years. The reason to have a non-wooden bassoon is for outdoor gigs where you're sitting in the hot sun – and also of course as a spare should you need to send yours in for service. However I wanted to wait until I found one that was 1) under $1000 and 2) as similar as possible to my regular bassoon. When I finally won this instrument on eBay, I knew it was going to need some work.The good news is that it was made the same month as other horn! It feels remarkably similar.
Aside from straightening rods, and replacing missing and non-original parts, the big efforts were as follows:
Silver plate everything
Add whisper lock
Fix poorly repaired crack in bell
Add guard over Bb keywork
Clean, polish and repair severe scuffing
High E key
Low A extension
Note: You can click any of the pics below to see the full resolution version!)
First, I took all the keys off. The bassoon was really grungy!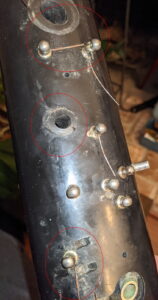 Most of the keys had were original pads and felts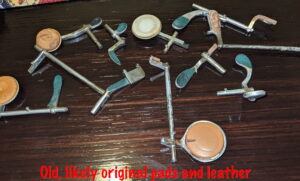 I cleaned the bassoon using soapy water and you could literally see the years of dirt and grime at the bottom of the tub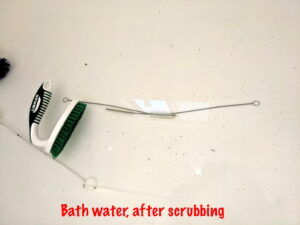 Here are some before and after pictures of the restoration work.
Its great to finally have a spare bassoon that plays almost identically to my primary instrument!
A big thanks to Monsen Silver Plating in Berkeley, Fox products for selling most of the necessary parts, and Jim Kirker for his invaluable advice in working with polypropylene.
Still to do are the high E key and Low A extension. I'll update this article when those are done.
Comments & Responses