Rich Rarey from Radio World (ex NPR)  included some quotes from me in his recent Streaming Guide eBook. Thanks Rich! Here's an excerpt:
We asked SHOUTcast Director of Busisness Development Jonathan Westerling which services broadcast stations are asking for. Westerling said because SHOUTcast's corporate family now includes the TargetSpot digital audio advertising network, monetization products and services – not just streaming services ‐ are of interest to stations. "Since our ad agency is 'in house,'" he said, "our stations get a higher percentage of the gross revenues generated by the advertisements. And, in fact, if a station qualifies, we actually pay the station to stream their signal since the ads can be optionally built into the SHOUTcast products."
We wanted to know if stations request a turnkey solution for their streaming. Westerling called turnkey solutions "pricey" and said the solutions do not excel in any particular aspect of the many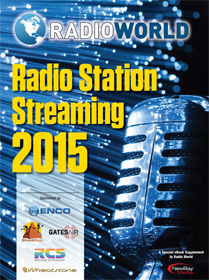 online needs that radio stations have. He confided that perhaps this is why the majority of radio station websites look, well, turnkey. The most successful stations, he said, "choose different partners for their website, apps, automation/encoder and stream delivery."
What technical advice does he give stations? "SHOUTcast is compatible with almost all streaming equipment/software and accepts a wide array of bitrates and stream formats. As such we do not recommend any specific products over others, since we're compatible with most of them," Westerling said. "Moreover, established stations coming to us for our monetization products have already made these decisions and are coming to us because they have achieved success and a good listening audience, so our input to them revolves around audience maximization and revenue generation."
We were interested to what hardware encoders, if any, he recommends for stations streaming through the SHOUTcast network. He mentioned that a number of stations have had "good success" with Telos' streaming hardware, and called the Orban PC card hardware "incredibly capable and great sounding." Westerling said the vast majority (95 percent) of stations using SHOUTcast are using a PC/software‐ based encoder. He said although free software encoders like B.U.T.T. are capable of running a station for years at a time glitch-free, "The biggest problem in keeping an Internet station online is not the encoder, but the Internet connection between the studio and the streaming server." To reduce streaming failures, Westerling said SHOUTcast's paid content distribution network products offer redundant server inputs, where a station operates two independent encoders, each feeding a server in a different physical location.
Thinking back to our example stream using limited metadata, I asked Westerling if stations were interested in using metadata beyond artist/title/album. I was surprised at his observation: "Most stations are still trying to figure out how to effectively integrate these basic fields into their online and marketing presence.
Comments & Responses